High speed flying, 50' off the desert floor, with 9 other planes is a high octane adrenaline filled ride. Be sure to catch all the action on NBC Sports' broadcast of the National Championship Air Races on March 27th at 3pm EST. https://youtu.be/8k7YHVs6N0c
Check out the inside story from pilot Andrew Findlay about this year's excitement.
Team STIHL's run for the 2015 Reno National Championship Air Races started out with a bang – literally. On June 20th, my birthday, as we were flying Race 30 home from Pylon Racing School (sort of like "boot camp" for air racers), our Super Legacy race plane had a catastrophic engine failure over the Nevada desert.
BANG! Just like that, Jackie and I were riding a glider… with the nearest airport 28 miles away in Wendover, Utah. I quickly called on my training from mentors Travis Christensen, Nick Long and Bob Jeffery. "Fly the plane," they always said. "Pitch for best glide speed and stay calm." This was the emergency that all pilots remember the words and energy management demonstrations of R.A. Bob Hoover in his Shrike Commander, "fly the wing, the engines aren't needed." I had seen Hoover fly when I was younger and knew what we had to do. My first year at Pylon School in 2013, Lee Behel and Will Whiteside made it clear, "Andy, you will have an engine failure at some point, be prepared" It was now time to put everything into practice and get my new wife Jackie, myself, and the plane safely back on the ground.
Jackie, now rudely awoken from a nap, and I started reviewing our options. The desert sagebrush and rocks were not an inviting landing area and we had a few mountains to pass over before Wendover. I declared an emergency with air traffic control as we began our 13 minute glide towards Wendover. Squinting for the airport out of the oil-covered canopy, it was only then that I realized not only had the engine suddenly failed, but our propeller was missing!
The landing was about as textbook as "dead stick" landings can be with energy to spare to coast right up to the airport crash trucks waiting for us on the taxiway. We made it uninjured, but with a very broken Race 30. I then called my dad to let him know we were alright. With every call that followed, our team started springing into action. Mark Voss and Continental Motors started on a new engine and Danny Ball at McCauley Propeller went to work on a new propeller on a seemingly impossible two-month timeline. Team "Shake-n-Bake," Ben Fouts and Scott Farnsworth just happened to stop in Wendover for fuel on their way from Reno and got to see the aftermath of the prop departing. "Holy S#!*" may have been heard on the radio as they pulled up seeing Race 30 without the prop.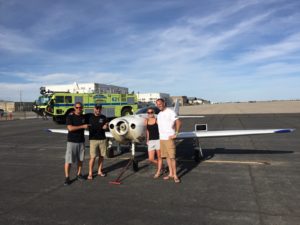 The incredible teamwork didn't stop there. We removed Race 30's wings and had the plane shipped to Bend, Oregon for repair. Engine systems removed, engine mount replaced, and firewall inspected for damage. A new "stock" engine from Continental was greeted by Aaron Brook and the Advanced Aviation team, ready to install race cylinders and pistons from Lycon Engines, and fresh turbos from Turbonetics.
Then it was time for "the dads" to descend on Bend. Talk about amazing in-laws! Jackie's dad Bob and nephew Caleb had done a lot of prep work removing parts and were joined by my dad Scott, Mike Turner, and me, who flew out to install the new modified engine. Oh, and the wings, too—don't want to forget those!
The connecting rod that caused the engine to fail, pushed the intake runners through the top engine cowling, shattering the nice carbon fiber shape, and a replacement was needed. Andre Prager, Mark Voss, Jason Borden, and Thomas Lockwood had been busy designing a new turbo inlet, so we incorporated their ideas into the new cowling from RDD.
Now time was really running tight. With Reno less than three weeks away, and a few sleepless nights in the shop, lots of ground runs, and a conditional inspection, we were ready to fly! David Robinson flew in chase in the Lancair Evolution just to make sure all systems looked good from the outside.
A few successful test flights later, the plane was ready for the icing on the cake: a flight to Florida and a sweet new vinyl wrap from Scott Farnsworth at Aircraft Wraps. This year, we amped it up with our top secret chainsaw (cutting through the competition!) wing design by Jason Noll at Dream Scheme Designs.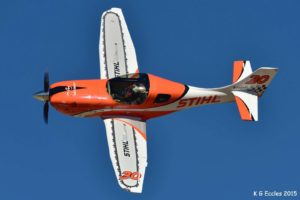 Next up was a trip to McCauley Propeller in Wichita, KS to pick up the awesome new race prop that the genius engineering team whipped up in record time. Their team couldn't get enough—so we had a big crowd on hand to see our first test runs!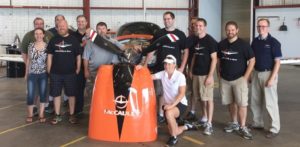 We arrived in Reno just four days later ready to push for gold! With not much testing of the new mods under our belts, we started out conservatively. We didn't have the fuel flow we needed so we re-engineered the fuel system with some math modeling and guidance of the engine guru, Sebastian Strauss. Test flights were going well, but the fuel system was very sensitive to fuel-air mixture adjustments. Thursday's race started fast pushing over 350mph, but ended quickly as the engine quit on the first lap after getting too rich. I pulled up, exchanging airspeed for altitude headed for runway 14. I was able to restart and continued to climb into an orbit over the field. A little shaken after that experience, we mellowed out the mixture adjustment for the Friday race. Lots of late night testing dialing in the changes was common. It was really cool being out there watching the Unlimiteds at the same time when they were doing their "stack checks", checking the color of the flames coming out the exhaust.
Starting ninth on the outside because of the Thursday mayday, I was able to work my up to fifth behind Gary Mead in "Lucky Mojo," Race 47. We battled for a few laps and I was able to pass him on the last lap right at the line! Turns out I cut pylon five a little too close on the second lap, so I was penalized. Now I was starting outside of Gary for the Saturday race.
Saturday started out well, but an intake tube came off and we lost manifold pressure and slowed a bit. The test flight Saturday evening was a cool moment. Elliot Seguin, one of the other younger guys, was taking Race 44 up for a test flight to make sure they were ready for Sunday. Elliot and I gave each other a 'thumbs up" and then coordinated altitudes over the radio for adequate separation. Both of our twin turbo Continental 550's screaming overhead as the daylight closed. The test flight was successful and we were ready to go!
Along with all the airplane fun, we also got to show off Andre Prager's latest "concept" creation, the Turbine powered STIHL chainsaw. The sound is incredible as you look around for a plane starting and then realize it is a chainsaw!
Sunday is the big day and it was time to push it up. John Parker in "Blue Thunder II," Race 352, was running great having found some extra horsepower on the dyno over the winter. Lynn Farnsworth in "Miss Karen," Race 44, was coming off their successful record runs in Mojave with Elliot Seguin and running strong.
We started the race in fourth. Dave Sterling, Race 8, was in third. He felt a bad vibration and called a mayday. Now we were in third! Here it was—the One Moment that gives Race 30 its name—"checkered flag, checkered flag" was called out on the radio!
A third place finish!
I pulled up into the cool down lap with a huge smile, full of adrenaline and excitement, feeling all of Team STIHL with me. We had done it, risen to the challenge after seemingly insurmountable odds and timelines, and successfully made it on the podium!
Reno is a magical place. Our September Family is why we come back every year. Looking back it is amazing we got it done, but extraordinary things can happen with a team like ours!
We couldn't have done it without our sponsors STIHL, McCauley, Turbonetics, Advanced Aviation, Beringer, Vertical Power, 360 Fly, Redline, Thermodynamic Sciences, Dynon Avionics, Aircraft Wraps, Dream Scheme Designs, and Valley of Speed. Thank you to everyone who put in the long hours that help us compete in the world's fastest motorsport!