STIHL National Championship Air Races Recap 2017
So Close! It was a week of excitement, challenges, a lot of learning and an incredible group of people. STIHL continued their title sponsorship of the event, and the racing fields were packed with action. There was a full Timber Sports display and it was great to chat with all the STIHL dealers and distributors that came to the event.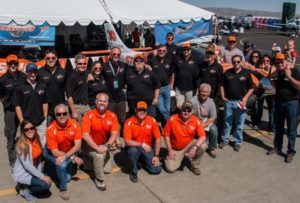 We worked hard to get everything ready this year. We installed a new fuel injection and ignition system from SDS EFI, re-did the intake system routing, new down tubes and augmenters, smaller plenum, and much more. We received the new pistons two weeks before the races and were still in the testing phase, trying to slowly build speed and dial in the engine at high power. We qualified on Tuesday, just cruising at 356 MPH and were in the 4th spot in the Gold Class.

Thomas Lockwood, a member of the crew, won the contest to create the official poster this year. A race fan and comic artist from Japan, Matsuda Miki, created a custom poster for the team. One Moment fans are international!
During the Friday race we started pushing the power up and were able reel-in David Sterling in Race 8, as I was passing his engine started to run rough and he pulled up. After Vicky Benzing in Race 6 ran well on Thursday, during the run-up she noticed a rough running engine and decided not to fly. It was a good decision as her crew ended up having a late night replacing a few cylinders. We ended up in second place headed into Saturday.
At the sponsor appreciation dinner on Friday it was great to relax with the team and say thank you to those who helped make this happen. As a highlight, Thomas Lindgens and Mike Turner received last year's McCauley propeller race blades as a thank you for all their hard work on the plane, and lots of late nights. It really is a team effort to compete in Reno and I can't thank everyone enough!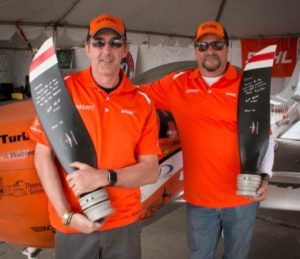 We reviewed the data and made some spray bar and ADI adjustments on Saturday before the race. Coming down the chute the additional ADI put out the flame and the engine went quiet as I quickly lost ground to the pack. I got it restarted and started chasing them down. I zipped past Bob Mills in Race 47 coming through the valley of speed. Dave Sterling had another rough engine and pulled up. Vicky Benzing took it easy with her fresh cylinders and ended up right behind us in 3rd.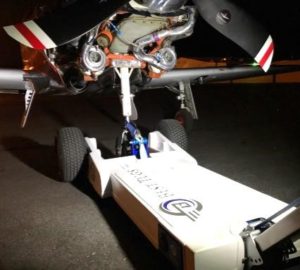 The Patey's brought the latest models of Best Tugs to Reno. They were great to have to move the planes around, and the lighting they have was also great for the evening runs and late night work. A big thanks to the Patey's and Best Tugs!
It was time for Sunday Gold race and we were ready to push it up! The engine and systems are working well and we were starting in second, perfect spot to challenge Jeff Lavelle in Race 39. Coming down the chute everything is green and we started adding the big power, as Mike Stieger said those famous words, Ladies and Gentlemen you have a race, and the planes accelerated towards the start pylon. The engine hesitated a bit and Jeff got a good start. Bob Mills in his Super Glasair III also had a good start. I got the motor up to speed and started chasing after Jeff. We came around the back side of the course and were really moving fast. Down into the valley of speed we were right with Jeff and I swung a little wide to keep him in sight as he disappeared under my wing. By the home pylon we were right on his tail, groundspeed was 410 mph! The afternoon Reno wind and his wake turbulence made for a bumpy ride. As we came around by pylon 3 and 4, the engine went silent. We were making big power so I assumed it broke and started to trade the speed for altitude and a safe glide. As I pulled up, I looked over and realized I bumped the EFI mixture override to full rich. I turned it back to the nominal position and the engine roared back to life. Ahhhhh! So close and so frustrating that I made a mistake! As I'm climbing I hesitated and thought about re-entering the track, but dropping in with all the racers right behind me isn't safe so I called the mayday and continued up.
The good news is we learned a lot, made a huge breakthrough in speed, and didn't break anything. We have great platform to be ready for next year, thank you to everyone on the team for all the support and a great week at Reno! Thank you to our sponsors, STIHL, McCauley Propellers, Turbonetics, Thermodynamic Sciences, Advanced Aviation, N-Aviation, Air Capital Insurance, Geoquip, SDS, Beringer Wheels, Dynon Avionics, Dream Scheme Designs, Vertical Power, 360FLY, and Valley of Speed. Can't wait for next year, we will be ready to challenge for the win!
See you in 2018!
Andrew Findlay